Brief History & Present Status
Ishwar Charitable Trust (ICT) was established in 1982 by Dr. Sushil Choudhry in the name of his Late. Mother Smt. Ishwar Choudhry. ICARE Eye Hospital was established in 1993 in Noida under the ICT.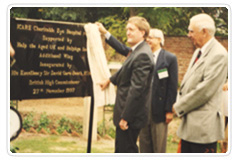 Presently ICARE has the main branch in sector 26, Noida and a second center at sector 63, Noida. ICARE is equipped with the entire range of state of the art diagnostic, curative, and surgical equipments in the field of Ophthalmology.'
ICARE is manned by a highly qualified, skilled, competent and motivated medical, paramedical and support staff providing comprehensive diagnosis, treatment and surgical services covering the entire range of ocular sub-specialties comparable to international standards. Our well equipped OPD with nine sub-specialty clinics examines and treats over 400 walk-in patients every day.
ICARE as an NGO exists to provide the same standard of eye care to the underprivileged rural population by our Outreach Program in the Community Wing. The Outreach Program arranges around 900 screening camps and treats approximately 150, 000 people annually for eye disease. We perform about 15000 surgeries in a year free or at a very subsidized cost.
The post graduate institute caters to the burgeoning unmet demand of quality healthcare education and training. The institute is affiliated with the National Board of Examination for DNB courses in the field of Ophthalmology. The institute conducts several clinical courses for medical and paramedical personnel to increase ophthalmic human resources in the country to provide continuing development of skills.