Dr. Sushil Choudhry
Dream of high quality ophthalmic care
A humble beginning borne out of my dream of high quality ophthalmic care to the needy and the under privileged population of northern India. The organization has taken off to the strata of success and accomplishment.
The foundation was laid with the benevolence of organizations and the constant support of many individuals. Today we are in a position of strength to be able to fulfill our cherished dreams.
ICARE has spread its wing engulfing areas like training, education and research within its gambit of activities. We also have the only certified Eye Bank and LASIK services in Noida.
The journey has seen many milestones and there are many more to be surpassed. It has been an enlightening past and a very encouraging future beckons us.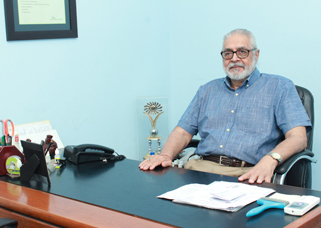 The nine super specialties have been able to provide world class ophthalmic care to the populace in and around Noida, which has led to a well-established tertiary eye care center.
As we strive ahead with the unflinching support and commitment of the ICARE family, no goal seems unattainable. I foresee higher targets and diversified inputs in newer fields like Stem Cell Research, Ophthalmic Therapy by integrating System of Medicine and Telemedicine etc.
We together aspire to
Bring the light to one dark place
Put a smile on a sad face
Touch a lonely soul with grace
Dry a tear, Calm a fear
Lord, help us brighten a life on our way